This post may contain affiliate links. When you purchase through links on my site, I may earn a commission at no cost to you.
Here's how it works
In the whirlwind of modern life, where time is often a luxury, having a well-stocked pantry with simple, ready-to-make meals can be a true lifesaver. This pressure canning recipe from Ball Canning for spaghetti sauce with meat is a perfect ready-to-make meal by just adding pasta.
Imagine those hectic evenings when hunger strikes and the clock is ticking. It's during these moments that having a jar of hearty Spaghetti Sauce with Meat on your pantry shelf can feel like a culinary blessing. This timeless canning recipe is more than just a marinara sauce; it's a ticket to quick, wholesome meals for families on the go. Having this kitchen staple can transform your busy nights into delicious family feasts.
This recipe comes from Ball Canning's Complete Book of Home Preserving on page 406.
Pressure Canning Spaghetti Sauce with Meat
When it comes to ensuring the longevity of your Tomato Sauce with Meat without compromising its taste and quality, a pressure canner becomes your trusted ally. Pressure canning is a time-tested method for preserving homemade foods, and it works wonders for this flavorful sauce. Since this spaghetti sauce has many low-acid ingredients it is necessary to use your pressure canner for this recipe.
Equipment Needed for Pressure Canning Tomato Sauce
Here is a listing of the essential equipment I used for preparing this recipe:
Tomato Sauce with Meat
With this Pressure Canning Spaghetti Sauce with Meat recipe from Ball Canning, you're not just preserving a delightful sauce; you're preserving moments of convenience and flavor for your future self. So, the next time life's hectic pace threatens to disrupt your family dinner plans, simply reach for that jar of homemade goodness.
Canning is a gift that keeps on giving, and my website has more tomato sauce recipes and preservation tips. From classic marinara to bold and zesty creations, there's a world of possibilities waiting for you.
Recipe Card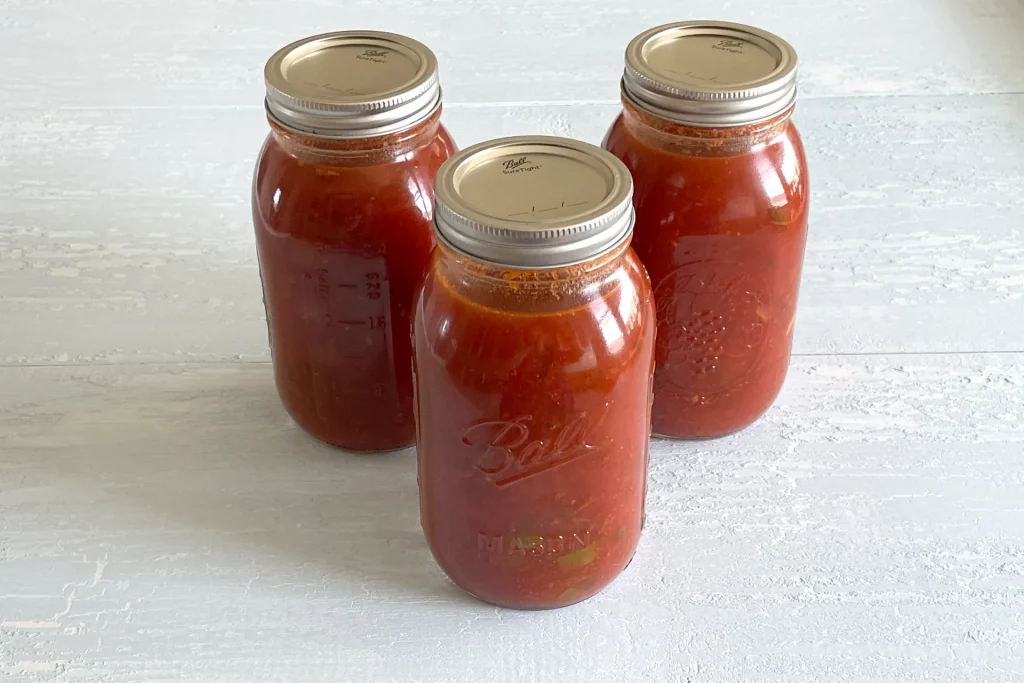 Ingredients
30

lbs

Tomatoes

2 1/2

lbs

Ground Beef or Sausage

5

cloves

Garlic

Minced

1

cup

Chopped Onions

1

cup

Chopped Seeded Green Bell Peppers or Celery

1

lb

Mushrooms

Sliced (Optional)

4

tbsp

Chopped Fresh Parsley

1/4

cup

Lightly Packed Brown Sugar

2

tbsp

Dried Oregano

4

tsp

Salt

2

tsp

Freshly Ground Black Pepper
Instructions
Wash tomatoes, removing stems and any bruised or discolored portions. Core and quarter 6 tomatoes and place in a stainless steel pot. Bring tomatoes to a boil over high heat. Using a potato masher, crush tomatoes to release juices, stirring constantly. Core and quarter additional tomatoes. Add to a stainless steel pot as you work. Continue a vigorous boil and stir frequently to prevent scorching. When all the tomatoes have been added, reduce heat and boil gently until tomatoes are soft about 10 minutes.

Working in batches, press the tomato mixture through KitchenAid Fruit and Vegetable Strainer or Food Mill. Discard peels and seeds. Set puree aside.

Prepare your pressure canner according to the manufactures instructions.

Clean jars and lids with warm soapy water. Ensure the jars do not have any chips or bubbles in the glass. Heat jars in hot water.

In a large stainless steel skillet brown your ground beef (or sausage) over medium heat. Break it up with a fork as you are browning. Drain off excess fat.

Add garlic, onions, green peppers and mushrooms. Saute until vegetables are tender, about 3 minutes.

In the large stainless steel pot, combine the tomato puree, meat mixture, parsley, brown sugar, oregano, salt and pepper. Bring to a boil over medium-high heat and boil, stirring occasionally, for 5 minutes, until heated through. You can cook down the tomato puree before adding additional ingredients for a slightly thicker sauce.

Using your funnel and ladle. Ladle hot sauce into hot jars, leaving 1-inch headspace.

Remove air bubbles and adjust headspace, as needed by adding more sauce.

Clean your jar rim with a damp paper towel.

Place the lid and band on your jar. Adjust to fingertip-tight.

Using your jar lifter place your jar into your prepared hot pressure canner.

Repeat until all sauce has been used.

Adjust the water level if needed in the canner, lock the pressure canner lid, and bring it to a boil over medium-high heat. Vent steam for 10 minutes, then close the vent. Continue heating your pressure canner to achieve 10 lbs of pressure (Make sure to adjust for your altitude) and maintain that pressure for the entire cooking time.

Process Pint Jars for 60 minutes and Quart Jars for 70 minutes. Set a timer so it is much easier to remember how long you need to pressure can for.

Turn off the heat when the timer is complete. Let pressure return to zero naturally. Wait 2 minutes after the pressure gauge reads 0, then open your vent. Remove your canner lid (making sure to lift it away from you so you don't get burned by the steam).

Leave jars in the pressure canner for 10 minutes after you remove the lid. Using your jar lifer carefully move the jars onto a wire rack or kitchen towel to allow them to cool. When moving the jars try not to tilt them to the side as this could affect the seal of the jars. Allow your jars to cool for 12-24 hours before handling.

Once cool, remove the canning rings from the jars. Wash your jars off to ensure there is no food residue on the outside of the jar from processing. Label your jar with the name of the recipe and date. This will help you remember what recipe you used to can and the date will allow you to use the oldest canned goods first.
Notes
This recipe comes from
The Ball Complete Book of Home Preserving
on page 406.
Feel Free to adjust the types and amounts of herbs and seasonings in this recipe to suit your preferences. Taste the sauce before ladling it into jars and add seasoning if desired.  The herbs and seasonings do not impact the safety of this recipe.
Editorial Process
At Preserving Guide, I take pride in my thorough and impartial approach to recipe and product reviews. Read my
editorial process for details
Other Posts